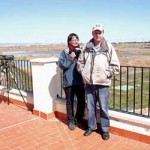 On Tuesday 6th March I had the pleasure of providing a guided bird watching trip to Albufera de Valencia for two clients from Finland. Both very experienced and knowledgeable birders, they were taking a short break in Valencia and wanted to spend a day bird watching as part of their other plans.
Having collected my clients from the city centre, we headed out across the natural park. The day´s first bird was an Iberian Grey Shrike that was perched on a telephone line close to the track.
Our plan was to visit a highly protected reserve where some superb conservation work takes place.
As we drove across the park we were treated to a spectacular sight as over 200 Glossy Ibis settled in a field beside us, the low morning sun illuminating the bronze and green sheen of their plumage.
As we started our walk, a small flock of Black Winged Stilt passed over, flying low and showing very well against the blue sky.  We scanned across a small lake and picked out Lesser Black Backed Gull, Red Crested Pochard, Wigeon and 8 Great White Egrets plus the usual Albufera regulars the Little Egrets and Grey Herons.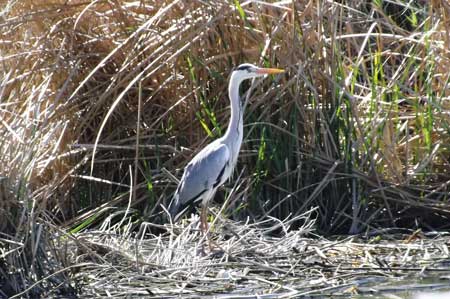 Marsh Harriers were around in good numbers.  It was also great to see the first Swallows of the Spring feeding over the water and resting in the reeds.  Chiffchaff, Cetti´s Warbler and Bluethroat were also around in the reedbeds as was Kingfisher.
Upon scoping across another lake we were treated to great views of Greater Flamingoes, Avocets, Purple Gallinule, Pintail and 3 Spoonbills. We were then fortunate enough to see the extremely rare Crested Coot, a highly vulnerable species which is the subject of a carefully controlled re-introduction and breeding programme.
We´d enjoyed some great views of superb species but were to be rewarded with another "target bird".  As we headed back to the van, a Booted Eagle passed by, showing beautifully it´s black and pale plumage.  It circled overhead for a few minutes before gliding away over the park.
To help clients from outside the Mediterranean area to see our local species is always a privilege and today we´d been treated to great views of some key birds.  It feels that Spring is finally underway too, so we can look forward to the arrival of summer visitors and to a new breeding season.
Written by David Warrington.
Bird Watching Guide at Valencia Birding.