On 4th May, I spent the morning at Albufera de Valencia with a client from The Netherlands.  As time was limited, we opted to spend the morning at one of my favourite reserves as it provides something of interest on every visit.
Upon arrival we enjoyed the usual Cattle Egret, Little Egret, Grey Heron and Purple Heron.  They were soon joined by Glossy Ibis and Avocet.  Scanning around revealed Little Ringed Plover, Purple Gallinule and Gull Billed Tern.  Fan Tailed Warblers were busy flitting around in the reeds and Swifts were overhead in huge numbers.
A little patience was repaid with good views of Purple Gallinule and a pair of Great Crested Grebes that gave a half-hearted attempt at a courtship display!
As we made our way back to the car we enjoyed views of Marsh Harrier and Whiskered Tern.
A brief but very pleasurable trip, our list comprised…
Cattle Egret, Grey Heron, Little Egret, Purple Heron, Squacco Heron, Avocet, Black Winged Stilt, Glossy Ibis, Greater Flamingo, Little Ringed Plover, Redshank, Great Crested Grebe, Little Grebe, Mallard, Moorhen, Purple Gallinule, Red Crested Pochard, Black Headed Gull, Cormorant, Gull Billed Tern, Whiskered Tern, Fan Tailed Warbler, House Martin, House Sparrow, Marsh Harrier, Reed Warbler, Sand Martin, Turtle Dove, Swift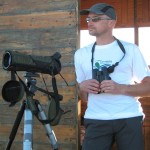 Written by David Warrington