After an interesting drive around the narrow streets of the historic quarter of Valencia, I met up with today´s clients Hannah and Alex. They were on a short break in Valencia and had previously arranged a day of guided bird watching with us.  Both keen birders, and obviously well-travelled they were keen to see some of the key species that the Valencian wetlands hold. We took a short drive along the coast and after the obligatory morning coffee we began our walk along the coast to visit some small lagoons.
The day started very well, with good views of Little Ringed Plover, Black Winged Stilt and Marsh Harrier. Hannah´s keen eye sight soon picked out a Water Rail in the reeds by the shore. We also spotted a few small flocks of Grey Wagtail heading south along the coast.
Then one of those great moments occurred…whilst watching the Water Rail a Kingfisher flew in and perched beside it!
Then within a further 5 minutes we saw two more of the day´s target species – Purple Gallinule and White Headed Duck. The Purple Gallinule has made real progress over the past few years and can now be seen throughout the year at many sites along the Valencian coast. White Headed Duck is still very rare but despite being especially vulnerable it does find reliable breeding areas throughout Eastern Spain.
Our walk then took us inland through reedbeds to an area of rough pasture. The reedbeds held Fan-Tailed Warber and yet another Kingfisher. Marsh Harriers were around in huge numbers, and a pair of Buzzards passed over.  Throughout the day Swallows and House Martins were passing through on migration. The distant telephone wires were occupied by Spotless Starlings.
As we made our way through the pasture land, we had good views of both male and female Stonechat and a lone female Whinchat. We also enjoyed great views of an Iberian Grey Shrike.
The last lagoon along our route provided a nice end to the day with Greater Flamingo, Avocet and Redshank.
Despite extremely low water levels, we´d managed to see some great birds, some of which were lifers for Hannah and Alex. It had been a pleasure to spend the day with them. The species list included…
Avocet, Black Winged Stilt, Buzzard, Cattle Egret, Coot, Crested Lark, Fan-Tailed Warbler, Goldfinch, Greater Flamingo, Grey Heron, Grey Wagtail, House Martin, House Sparrow, Iberian Grey Shrike, Kestrel, Kingfisher, Little Grebe, Little Ringed Plover, Magpie, Marsh Harrier, Moorhen, Purple Gallinule, Redshank, Shoveler, Spotless Starling, Stonechat, Water Rail, Whinchat, White Headed Duck, Wood Pigeon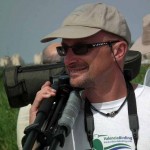 Written by David Warrington.
Bird Watching Guide at Valencia Birding.