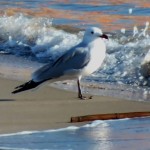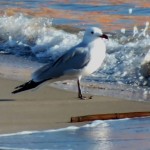 On 16th October I enjoyed a day of guided birding with a couple of clients from Canada. Ingo and Kiran were keen to see the classic species of the Valencian coastal wetlands. Having met them at their hotel in the city centre we made the short journey to the natural park of Albufera de Valencia.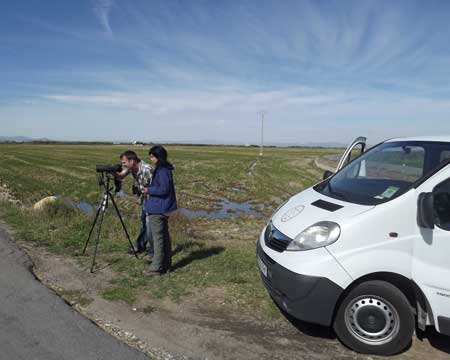 The first bird of the day was a Sandwich Tern perched on a pole on the main Albufera Lake. We then headed for one of the reserves where we had superb views of Marsh Harrier, and interestingly noted flocks of European Starlings arriving for the winter. Wildfowl included Shoveler, Gadwall, Pochard, Red Crested Pochard, Pintail and Shelduck.
We enjoyed an all too brief view of a flock of Spoonbill passing overhead before returning to the van. Further exploration of Albufera gave views of Iberian Grey Shrike, Kingfisher, Black Winged Stilt, and Booted Eagle.
We then headed a little further north to visit another wetland site where we were fortunate enough to enjoy close views of three of the classic albeit rare species of the area – White Headed Duck, Purple Gallinule and Audouin´s Gull. We took a short walk along the coast and had views of Whinchat, Crested Lark and another Iberian Grey Shrike.
The day ended with a visit to a local lagoon where, with the sun already low in the sky we enjoyed the peace of a beautiful Mediterranean evening. We finished the trip with some stunning views of Marsh Harriers flying low over the reeds and shoreline of the lagoon. We´d had a great day and Ingo and Kiran had enjoyed some great views of some of the area´s key species.
The list for the day included :
Audouin´s Gull, Black Headed Gull, Lesser Black Backed Gull, Sandwich Tern, Cormorant, Booted Eagle, Kestrel, Marsh Harrier, Iberian Grey Shrike, Gadwall, Mallard, Pintail, Pochard, Red Crested Pochard, Shelduck, Shoveler, Teal, White Headed Duck, Little Grebe, Coot, Black Winged Stilt, Spoonbill, Purple Gallinule, Grey Heron, Little Egret, Cattle Egret, House Sparrow, European Starling, Spotless Starling, Blackcap, Crested Lark, Stonechat, Whinchat, Kingfisher, Swallow, Wood Pigeon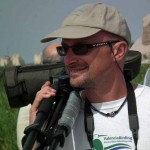 Written by David Warrington
Bird Watching Guide at Valencia Birding.