On Sunday 21st October, I spent a very enjoyable day with some great clients from Kidderminster, UK.  Stella and Richard are both keen nature lovers and in recent years have been particularly interested in birds.  They were keen to explore the Valencian wetlands and to see the classic species of this diverse area.
We started our day at one of the reserves within the natural park of Albufera de Valencia where we began by scanning the lake for wildfowl. We soon had good views of Red Crested Pochard, Shelduck and Teal. We also had great views of both male and female Marsh Harriers, a species that seems to be doing increasingly well in this area.
We then moved on to another site within Albufera where we were very fortunate to see the endangered Red Crested Coot. We also had good views of Purple Swamphen, and Iberian Grey Shrike. The reed beds held many recently arrived Chiffchaffs plus Fan-Tailed Warbler and Cetti´s Warbler. We also had brief views of Kingfisher and Black Redstart.
After a coffee stop, the next site of the day was a coastal lagoon where we enjoyed great views of two classic Valencian species, the White Headed Duck and Audouin´s Gull. A walk along the coastal scrubland gave views of Stonechat, Whinchat, Common Sandpiper and Hoopoe.
Although the day seemed to get off to a slow start, with a little effort and patience we´d succeeded in enjoying some great views of some beautiful species. Stella and Richard had enjoyed the day and had seen some birds for the first time which is always very rewarding.
We´d tallied over 40 species including…
Audouin´s Gull, Black Headed Gull, Cormorant, Crested Coot, Yellow Legged Gull, Cattle Egret, Common Sandpiper, Grey Heron, Little Egret, Black Redstart, Cetti´s Warbler, Chaffinch, Chiffchaff, European Starling, Fan Tailed Warbler, Goldfinch, Grey Wagtail, Hoopoe, House Sparrow, Iberian Grey Shrike, Kingfisher, Reed Warbler, Serin, Spotless Starling, Stonechat, Whinchat, White Wagtail, Common Coot, Gadwall, Great Crested Grebe, Little Grebe, Mallard, Moorhen, Pochard, Purple Gallinule, Red Crested Pochard, Shelduck, Teal, Water Rail, White Headed Duck, Kestrel, Marsh Harrier.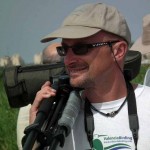 Written by David Warrington.
Bird Watching Guide at Valencia Birding.