Last week, we provided two days of guided birding for a group of 4 clients from UK.  To enjoy the diversity of habitat and bird life that this area offers, they had opted for a day at the Coastal Wetlands and a day on the Steppe and Lagoons in the interior of Eastern Spain.
All well travelled nature lovers, the group was an absolute delight…knowledgeable and very good humoured.   Owing to some unusually windy weather conditions we proposed a slight amendment to the itinerary for the first day, and following a short journey from their hotel, we were at the first birding site.
Scanning across some rice fields near Valencia, we enjoyed good views of Cattle Egret, Audouin´s Gull and Reed Bunting.  The resident Spotless Starlings had been joined by sizeable flocks of wintering Common Starling, a regular visitor to the Valencia area.
The second site was a sheltered lake close to the coast where we had views of wildfowl including Pintail, Pochard, Red Crested Pochard, Shoveler and Teal.  We also had great views of numerous Marsh Harriers (including a female that was lunching on a Teal!).  Other species included Black Winged Stilt, Kingfisher, and Crag Martin.
After a brief lunch we headed for the final site of the day, a little known coastal lagoon.  The reeds held Cetti´s Warbler and Stonechat but as we scanned the shore, we enjoyed views of Purple Swamphen and Water Pipit.  The lagoon provided stunning views of Greater Flamingo, plus Shelduck and Gadwall.
Prior to the journey back to the hotel, a very pretty Hoopoe provided a nice ending to a great day.
The second day dawned bright and thankfully very still, with hardly any wind at all.  We enjoyed a relaxed journey up onto the steppe and after a coffee break, we stopped at the first lagoon of the day where we saw Gadwall, Red Crested Pochard and Greater Flamingo.  The surrounding fields held Skylark and Lapwing but the real treat was some superbly close views of Calandra Lark, there distinctive markings showing beautifully in the morning sunlight.
An afternoon searching and scanning up on the high steppe was rewarded by amazing views of Great Bustards, some of the males performing their spectacular display routine.  We also had great views of Crane, another classic species of this area.
The day still had a surprise in store – fabulous views of a Golden Eagle that circled low over the fields very close to the van before finding a thermal and rising high into the deep blue afternoon sky.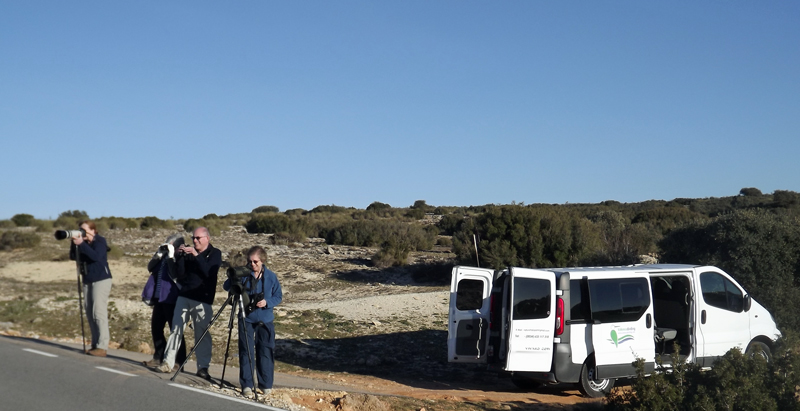 The two days had been a pleasure, great company, winter sunshine, and some spectacular sights.  The species list included…
Audouin´s Gull, Black Headed Gull, Black Winged Stilt, Cattle Egret, Common Tern, Cormorant, Great Egret, Grey Heron, Lapwing, Lesser Black Backed Gull, Little Egret, Yellow Legged Gull, Booted Eagle, Golden Eagle, Kestrel, Marsh Harrier, Coot, Gadwall, Greater Flamingo, Little Grebe, Mallard, Moorhen, Pintail, Pochard, Purple Swamphen, Red Crested Pochard, Shelduck, Shoveler, Teal, Black Redstart, Blackbird, Calandra Lark, Cetti´s Warbler, Chiffchaff, Crested Lark, Crow, Hoopoe, House Sparrow, Kingfisher, Linnet, Magpie, Reed Bunting, Robin, Skylark, Spotless Starling, Starling, Stonechat, White Wagtail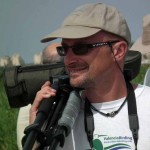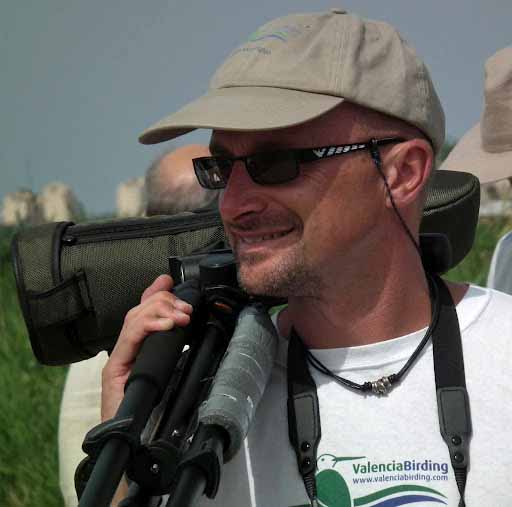 Written by David Warrington.
Bird Watching Guide at Valencia Birding.