On Tuesday 9th April, I was especially happy to provide a day of guided birding for a family from UK…especially happy as their young son came along on the trip and it´s always great to see children and young people getting involved and showing interest in nature.
After meeting in Valencia city centre, we made the short trip to the coastal wetlands and after the obligatory morning coffee, we set out along the beach, behind which is a series of lagoons.  We were fortunate enough to start the day with a Buzzard overhead closely followed by a Sedge Warbler in the reeds.  The first large lagoon held Greater Flamingo, Red Crested Pochard, Shoveler and Common Pochard.
A little further along the coast we were rewarded with super views of one of the classic Valencian species, the Collared Pratincole.  This beautiful bird breeds at various points along the Med and is always a pleasure to watch.   The same spot held Little Ringed Plovers, Black Winged Stilts, Yellow Wagtail and Little Grebe.
As we headed inland, we enjoyed great views of sizeable flocks of Glossy Ibis.  Sand Martins, House Martins and Swallows were constantly passing overhead and a few Whiskered Terns were beginning to arrive.
The next hide overlooked a larger lake that held Avocet, Purple Heron and Shelduck.  As we were watching Marsh Harriers quartering the reeds, another raptor came into view, a beautifully graceful male Hen Harrier, one of the days´s highlights for sure.
A short walk through pastureland brought us to the day´s final lake.  This site always has a surprise or two and today was to be no exception.  As we relaxed in the afternoon sun, looking out across the lake at Flamingoes, Gadwall and dozens of Grey Herons, a couple of White Headed Ducks came into view.  A brief glimpse of a Purple Swamphen was then followed by the finale of the day as a pair of White Storks passed overhead.
Once again, a great day with great company.  The species list for the day included…
Coot, Moorhen, Little Grebe, Gadwall, Mallard, Pochard, Red Crested Pochard, Shelduck, Shoveler, White Headed Duck, Goldfinch, Hoopoe, House Sparrow, Magpie, Sardinian Warbler, Sedge Warbler, Fan Tailed Warbler, Spotless Starling, Stonechat, Yellow Wagtail, Buzzard, Kestrel, Hen Harrier, Marsh Harrier, Avocet, Cattle Egret, Little Egret, Greater Flamingo, Glossy Ibis, Grey Heron, Purple Heron, White Stork, House Martin, Sand Martin, Swallow, Black Headed Gull, Common Tern, Yellow Legged Gull, Black Winged Stilt, Collared Pratincole, Little Ringed Plover, Purple Swamphen, Snipe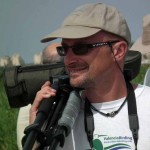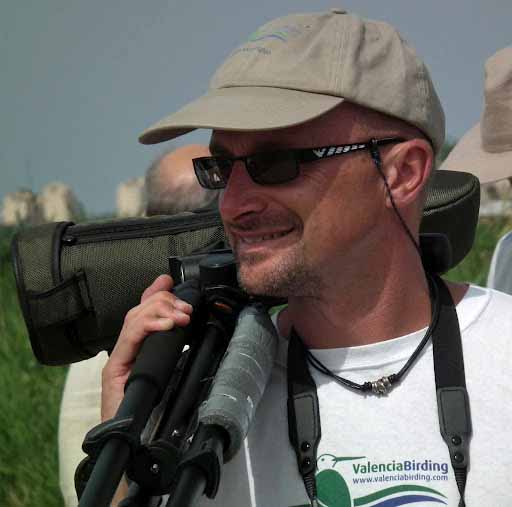 Written by David Warrington.
Bird Watching Guide at Valencia Birding.