Earlier this month I spent two days with Canadian birders Jean-Marc and Nathalie from Quebec.  They were touring Spain and had chosen to incorporate into their plans one of our "Birding Short Breaks" at Villa Florencia.
They had previously visited Barcelona, Madrid and Seville and were now spending a few days exploring the Valencia region.
Our first day of birding was to the Steppe & Lagoons of Castilla de la Mancha.  After the relatively short drive up onto the plains, we stopped at one of our usual spots where we had delightful views of Hoopoe, Crested Lark, Corn Bunting and Black Redstart.  The first of the day´s lagoons gave views of Shelduck, Red Crested Pochard, and Greater Flamingo, soon to be followed by superb views of sizeable groups of Avocet.
As we scanned the plains, we eventually found one of our main targets of the day, a large group of Great Bustards.  These huge birds are always a favourite for visitors, and it´s always a pleasure to track them down!  We then had lunch by the side of another, more sheltered lagoon and enjoyed views of White Headed Duck, Little Grebe, March Harrier and Teal.
The next lagoon was beside an old farming village and we were joined for a while by a local ranger.  As we chatted and watched the Redshanks, Black Winged Stilts and Snipes, we noticed a large raptor….a Golden Eagle.  A magnificent bird of prey that is often seen on this trip.
As we headed back towards the motorway for our return journey we made a brief stop to watch yet another group of Great Bustards.  Whilst we were enjoying this beautiful sight in the evening sunshine, we spotted another bird off to the left, standing alone in the next field.  We put the scope onto it for a better view and found it to be a Little Bustard, a super finale to a great day out on the steppe.
The day´s species list included : Kestrel, Buzzard, Marsh Harrier, Golden Eagle, Little Bustard, Great Bustard, Greater Flamingo, Avocet, Redshank, Black Winged Stilt, Snipe, Black Headed Gull, Black Redstart, Skylark, Crested Lark, Corn Bunting, Crow, Hoopoe, Magpie, House Sparrow, Spotless Starling, White Wagtail, Swallow, Shoveler, Shelduck, Red Crested Pochard, Teal, Pochard, White Headed Duck, Little Grebe, Moorhen, Coot
Day two dawned a little grey with light rain so we made some slight changes to the plans and headed to Albufera de Valencia.  Some extremely valueable information, kindly provided by one of the park´s biologists lead us to a specific rice field that was being ploughed in preparation for planting of the new season´s crop.  As we arrived, we saw a tractor being followed by hundreds of gulls, whilst the freshly turned mud held a spectacular array of birds!  Gulls included Black Headed, Lesser Black Backed, Yellow Legged and the local classic species, Audouin´s.  The field held Greater Flamingo, Glossy Ibis, Little Ringed Plover, Bar Tailed Godwit and Common Sandpiper.
After enjoying such a spectacle, we headed a little further north and after a picnic on the beach we visited another of Valencia´s wetlands areas.  Swallows and House Martins were feeding in large flocks, obviously taking advantage of this spot whilst on their journey north.  On a lagoon we had views of wildfowl including Gadwall, Shoveler, Teal and Red Crested Pochard whilst the beach and nearby scrub held Kentish Plover, Stonechat, Reed Bunting and Yellow Wagtail.
We ended the day with views of yet more Audouin´s Gull and Marsh Harriers before taking the short journey back to the city of Valencia.
The day´s species list included : Marsh Harrier, Kestrel, Glossy Ibis, Redshank, Common Sandpiper, Bar Tailed Godwit, Ringed Plover, Little Ringed Plover, Kentish Plover, Greater Flamingo, Black Winged Stilt, Black Headed Gull, Yellow Legged Gull, Lesser Black Backed Gull, Audouin´s Gull, Crag Martin, House Martin, Swallow, White Wagtail, Grey Wagtail, Yellow Wagtail, Water Pipit, Goldfinch, Greenfinch, Reed Bunting, Stonechat, Whinchat, Chiffchaff, Gadwall, Red Crested Pochard, Shoveler, Mallard, Teal, Coot, Moorhen
It had been a pleasure to spend these days with such nice people, and the bird life of Valencia had hopefully added something special to their visit.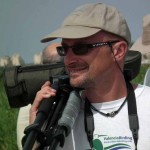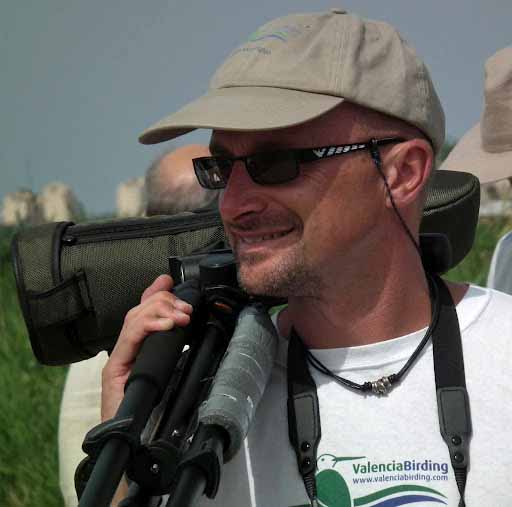 Written by David Warrington.
Bird Watching Guide at Valencia Birding