Last week I provided a two day guided birding trip for a couple of great clients from Canada.  They were touring Spain and had previously arranged some guided bird watching in Valencia with us.
Day one was a trip to the steppe and lagoons.  Having collected them from their hostal in the city of Valencia we made the short journey inland.  After a morning coffee we ventured out across the plains in search of one of their target species, the Great Bustard.  Our first stop did not reveal any bustards but the day did begin superbly with great views of a Great Spotted Cuckoo.  As we were watching  this, we enjoyed the song of nearby Skylarks and also had a great view of a Crested Lark and Corn Bunting.
The first lagoon of the day gave views of Sandwich Tern, Greater Flamingo, Black-Winged Stilt and Little Ringed Plover.    We moved on to the day's next lagoon where we enjoyed views of Shelduck, Avocet, Gadwall and Reed Warbler.  Then one of the day's highlights, the extremely rare White Headed Duck.  We also had views of Marsh Harrier and Black-Necked Grebe.  As we were about to leave, we were treated to views of Bee-Eater and Woodchat Shrike, both perched on the same fence!
We then made our way onto the higher steppe in search of some of the classic species of the area.  Our patience was eventually rewarded with views of not only Great Bustard but Stone Curlew, Black-Bellied Sandgrouse and some of the best views of Calandra Lark that I've had this year.  A spot of luck also gave us a view of a Little Owl as he flew across the front of the van and settled on a pile of rocks close by.
The day ended with a visit to another lagoon where we watched Lapwing, Buzzard, Kentish Plover and Hoopoe before making the return journey to the city of Valencia.
Day two was a trip to the Valencian Coastal Wetlands.  After a very short trip from the city of Valencia we began our walk along the beach and dunes.  One of the first sightings was a beautfully elegant Purple Heron, followed by a Squacco Heron and Spoonbill.   Fan-Tailed Warbler was soon joined by Great Reed Warbler and Cetti's Warbler.  The first of the day's coastal lagoons gave excellent views of Collared Pratincole, Little Tern, Whiskered Tern, Little Ringed Plover and Yellow Wagtail.
We then headed inland through reedbeds where we had great views of Marsh Harrier until we arrived at another lagoon where we stopped for lunch.  As we relaxed in the Spring sunshine we were treated to views of Purple Swamphen, Little Grebe, Red Crested Pochard and a magnificent Short Toed Eagle.
Our walk then took us through an area of pastureland where we saw Stonechat, Whinchat, Hoopoe, and Bee-Eater.
The day ended at a superb lagoon where we were fortunate enough to add to our list some excellent sightings, including Little Bittern, Night Heron, Great Egret and Glossy Ibis.
Many of the species were "lifers" for my clients, which made these couple of days of bird watching in Valencia even more special.  We'd had a great couple of days with some superb species, diverse habitat, quality views and fun company.
The species list for the two days included…
Little Egret, Cattle Egret, Great Egret, Grey Heron, Purple Heron, Squacco Heron, Night Heron, Little Bittern, Spoonbill, Redshank, Greater Flamingo, Collared Pratincole, Black-Winged Stilt, Little Ringed Plover, Kentish Plover, Avocet, Stone Curlew, Black-Bellied Sandgrouse, Lapwing, Great Bustard, Little Grebe, Great Crested Grebe, Black-Necked Grebe, Coot, Moorhen, Purple Swamphen, Mallard, Shelduck, Gadwall, Pochard, Red-Crested Pochard, White-Headed Duck, Shoveler, Yellow-Legged Gull, Black-Headed Gull, Audouin's Gull, Common Tern, Little Tern, Sandwich Tern, Whiskered Tern, Kestrel, Marsh Harrier, Short-Toed Eagle, Buzzard, Little Owl, Woodchat Shrike, Southern Grey Shrike, Great Tit, House Sparrow, Goldfinch, Corn Bunting, Skylark, Crested Lark, Calandra Lark, White Wagtail, Yellow Wagtail, Spotless Starling, Magpie, Crow, Rock Dove, Collared Dove, Turtle Dove, Wood Pigeon, Hoopoe, Bee-Eater, Great Spotted Cuckoo, Whinchat, Stonechat, Fan-Tailed Warbler, Reed Warbler, Great Reed Warbler, Swift, Swallow, House Martin, Sand Martin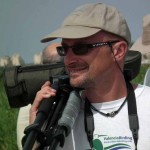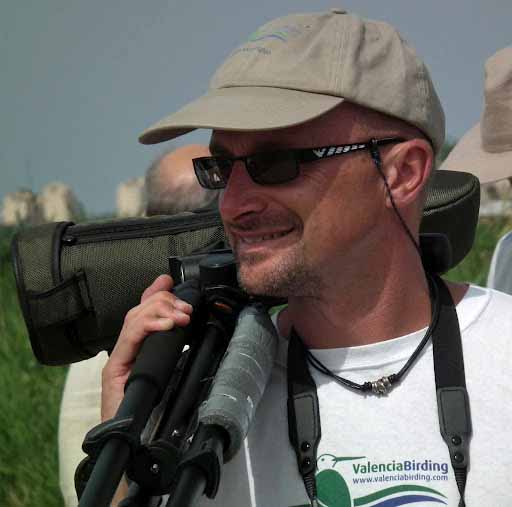 Written by David Warrington
Bird Watching Guide at Valencia Birding