Yanina and I recently designed and provided a 2-day bird photography trip for a client from Norway.  Svein was staying in the south of our region and wanted to organise a couple of days birding from Alicante.  We opted for a day at the area´s premium wetland reserve followed by a day on the steppe.  That way he would see two completely different habitats.
One day 1 we met up and drove to the wetlands where we started the day with a walk through the reserve.
The day began with views of Little Grebe, Little Stint, Dunlin, Avocet and Greater Flamingo.  We had good views of Glossy Ibis in flight, then of Booted Eagle passing overhead.
Although we weren´t able to get quality photos, we were very fortunate to enjoy views of one of the over-wintering Spotted Eagles, a huge raptor that migrates from Eastern Europe each year.
After a picnic lunch by a small lake where we enjoyed views of Wood Sandpiper, Red Knobbed Coot and Purple Swamphen, we took a short walk during which we had great views of a Black Stork.
We then visited a couple of hides from where we saw White Headed Duck, Black Necked Grebe, Shelduck, Red Crested Pochard and Lapwing.  We were quite surprised also to see Squacco Heron and Red Rumped Swallow this late in the year.
We´d enjoyed a great day during which Svein had succeeded in getting some excellent photos, and in seeing a number of species for the first time.
The species list included…
Little Stint, Dunlin, Wood Sandpiper, Grey Plover, Lapwing, Little Ringed Plover, Black Winged Stilt, Glossy Ibis, Avocet, Greater Flamingo, Great Crested Grebe, Little Grebe, Black Necked Grebe, Moorhen, Coot, Red Knobbed Coot, Black Stork, Purple Swamphen, Grey Heron, Squacco Heron, Little Egret, Cattle Egret, Shoveler, Shelduck, Red Crested Pochard, Pochard, White Headed Duck, Mallard, Booted Eagle, Spotted Eagle, Kestrel, Marsh Harrier, Cormorant, Black Headed Gull, White Wagtail, Zitting Cisticola, Stonechat, Chiffchaff, Crag Martin, Red Rumped Swallow, Greenfinch.
On day-2, Yanina took Svein up onto the high steppe.  At over 900 metres in places, this wide open space can be very cold in winter but it provides habitat for some very special bird life.
They were fortunate to enjoy superb views of Little Bustard, Great Bustard and Crane.  Other classic steppe species included Rock Sparrow, Calandra Lark, Black-Bellied Sandgrouse and Linnet.
It had been a pleasure for us to guide Svein, and to show him some of our region´s special sites.  We hope to welcome him back soon.
The species list for day-2 included…
Little Owl, Marsh Harrier, Common Buzzard, Great Bustard, Little Bustard, Black-bellied Sandgrouse, Common Crane, Northern Lapwing, Wood Pigeon, Red-legged Partridge, Hoopoe, Southern Grey Shrike, Magpie, Carrion Crow, Calandra Lark, Skylark, Crested Lark,  Chiffchaff,  Blackcap, Robin, Black Redstart, Stonechat, Spotless Starling, White Wagtail, Corn Bunting, Chaffinch, Goldfinch, Linnet, Serin, House Sparrow, Tree Sparrow, Rock Sparrow.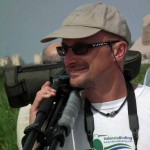 Written by David Warrington.
Bird Watching Guide at Valencia Birding.