Another bird-packed year has passed, filled with many happy memories of special times spent with lovely people in beautiful locations, watching amazing birds. As we look forward to another new year, we´d like to begin as always by thanking you all for your support during 2016 and by wishing you a very happy 2017.
General News
Our day trips have continued to prove very popular, and this year we´ve been delighted to see an increase in teenagers and young people that we´ve guided. We´re very much aware that the future of birding and conservation lies in their hands, so we´re always gratified when we see such interest.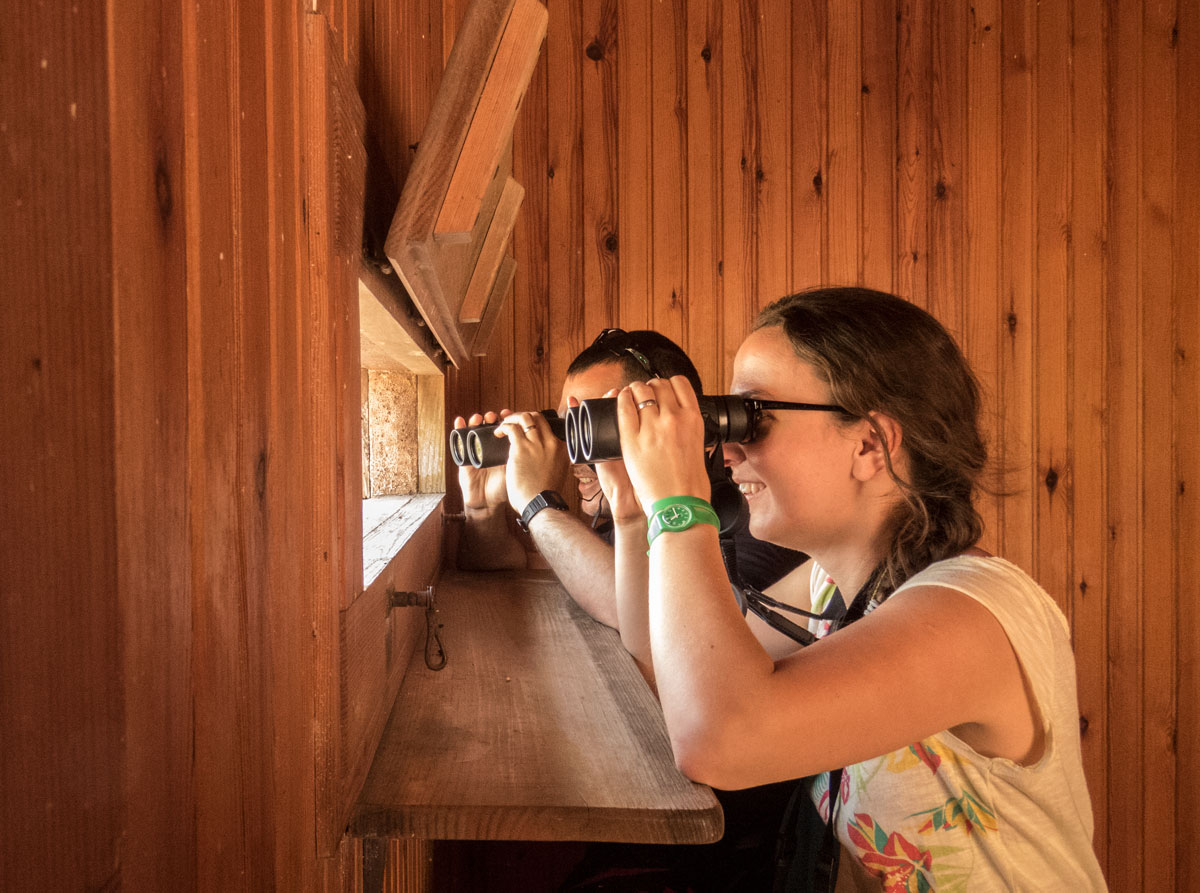 Our proximity to some incredibly diverse habitat is a constant benefit to us, and we look forward to another year of guiding our clients through some of Europe´s best wetlands, salt marshes, highland forest, mountains and steppe.
A point worthy of note here is that after a lengthy period of dry weather during much of the year, our region saw some incredibly high rainfall during December 2016. Although this caused some practical problems in the immediate term, it has served to boost the water levels at all of our birding sites. We´re thrilled at the prospect of knowing that all of our sites will be in top condition not only for the winter season but also in readiness for the forthcoming breeding season.
Bespoke Birding Breaks
We believe that our continued success depends largely on our flexible approach to what we offer, and 2016 saw a huge number of totally bespoke trips for our clients. Many of these saw clients using the beautiful city of Valencia as a base. However, we also provided many breaks that included accommodation in the rugged rural interior of Alicante province, or from some of the charming outlying villages of the Valencia region, all in authentic, traditional Spanish guest houses. Many clients have opted for a twin centre break, using both rural Alicante and the Valencia area as bases. This way we maximised habitat diversity and bird species whilst avoiding long travelling times. This is an increasingly popular option and has proved very successful throughout 2016.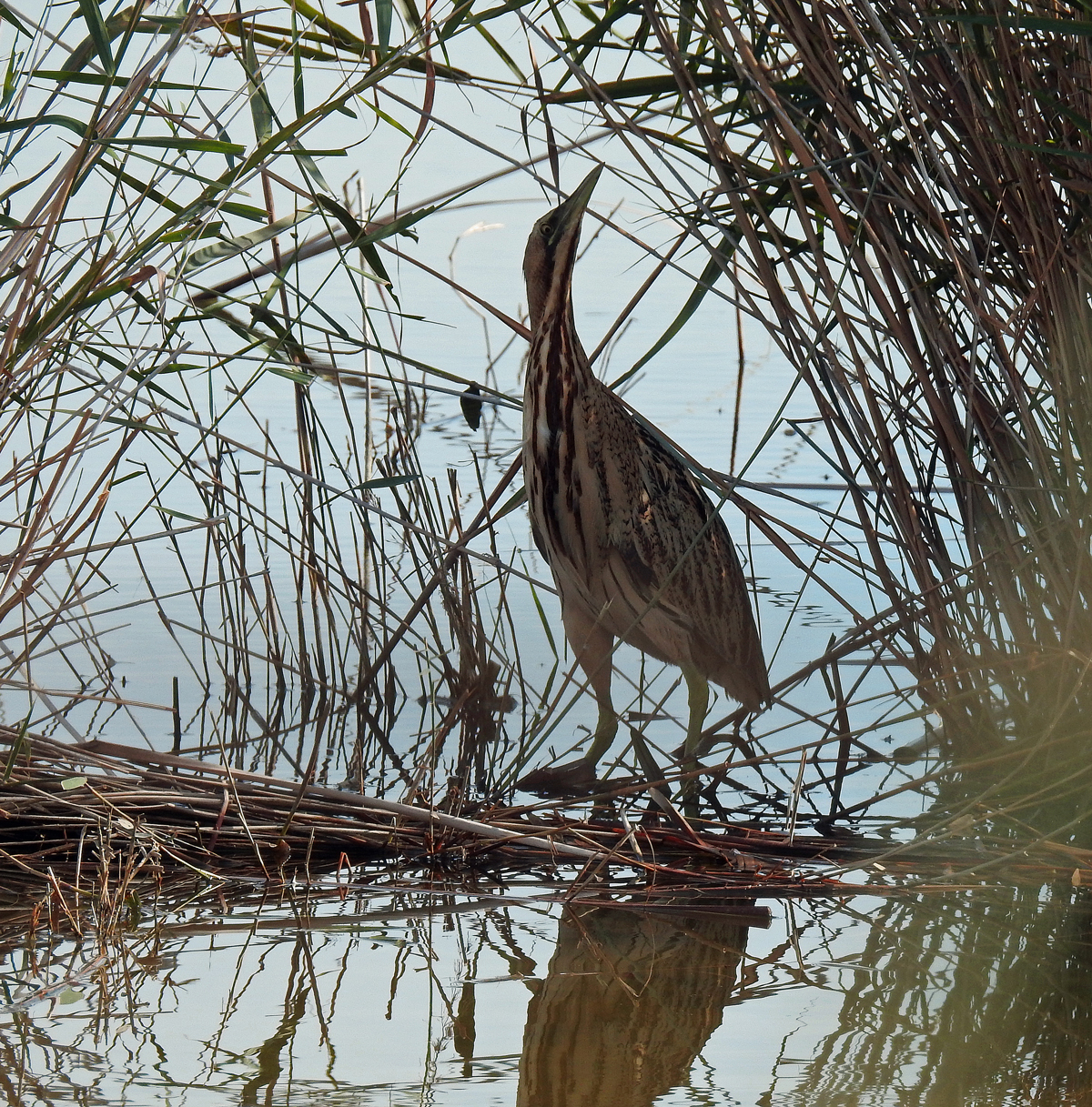 Whilst our website provides some examples of such breaks, the options are far too numerous to list. We firmly believe that holidays and free time are precious, and should be absolutely optimised, so we encourage clients and potential clients to contact us to discuss the various possibilities, all without obligation. Such breaks are available for group sizes from 2 to 14 people.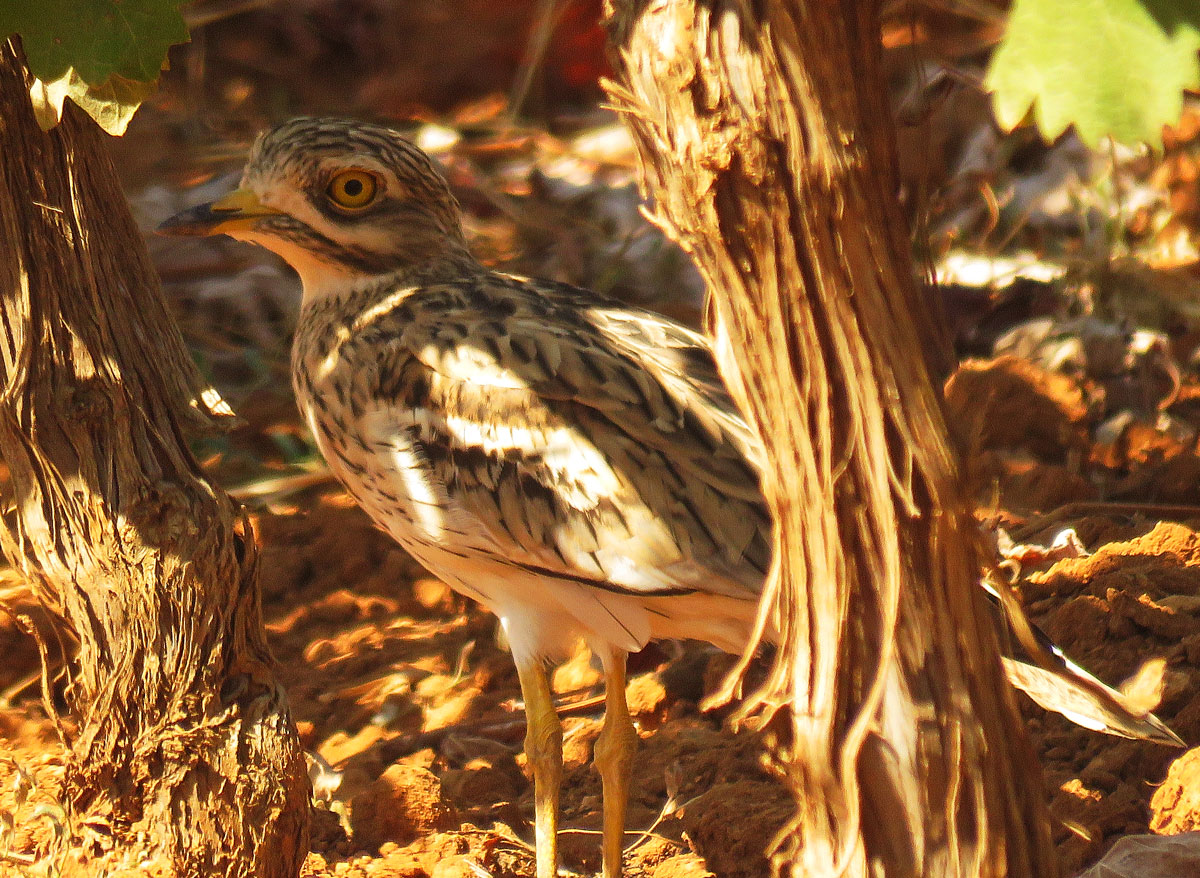 We´ve seen an increase in the number of clients that have expressed an interest in dedicating an element of their trip to bird photography. Many of our birding sites offer this option very easily, but we now also have access to a number of special photography hides which can be included in many of our trip itineraries.
Mediterranean & Pyrenees
As a way of offering a unique Spanish birding experience that takes in huge habitat diversity, we have designed this new twin-centre trip. The trip begins with collection at Alicante airport and for the first three nights is based in a restored farmhouse in the Sierra de Mariola, a beautiful rural location. From there we can easily visit some of Spain´s best salt-marshes, coastal wetlands and areas of steppe and highland lagoons.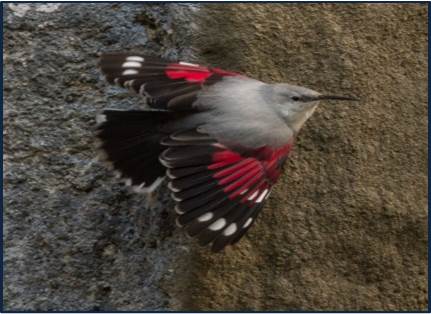 Depending on the season, some of the target species for this part of the trip could include Marbled Duck, White Headed Duck, Red-knobbed Coot, Purple Swamphen, Rufous Tailed Bushchat, Trumpeter Finch, Great Bustard and Black-bellied Sandgrouse.
We then head north to the mountainous region of Navarra and the spectacular Pyrenees. The second half of the week is spent exploring the region´s high peaks, pastures and forests and offers the chance to see some fabulous species including Wallcreeper, Lammergeier, Golden Eagle, Egyptian Vulture, White-backed Woodpecker and Dupont´s Lark. The trip is brought to a close with drop-off at either Barcelona or Reus airport, and is aimed at groups of around 10-12 people.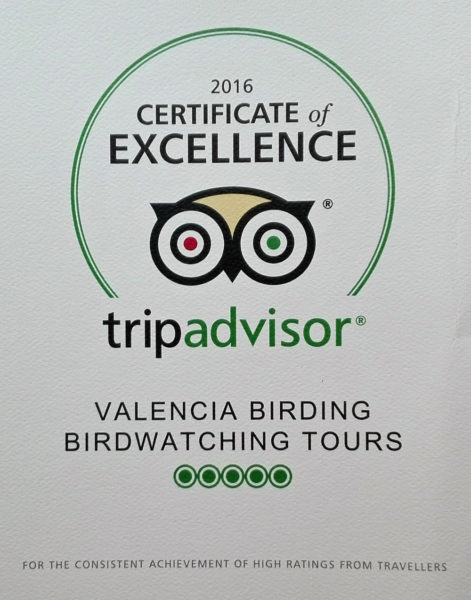 Trip Advisor
Thanks to the ongoing support of our clients who continue to post very kind reviews on Trip Advisor, we are proud to say that Valencia Birding has been awarded their Certificate of Excellence.
We´re very grateful to all who have helped us to achieve this by taking the time to post reviews. Sincere thanks to you all!
2016 Species List
For those who wish to look in more detail at the species that we´ve enjoyed seeing in the Valencia region throughout 2016, we have included with the bulletin our year list. This includes species that we´ve seen within our home region of the Valencian Community, and as such excludes species seen on trips that we´ve undertaken in other areas of Spain.
Finally…
We´d like to sign off by thanking once again, all those who have shared 2016 with us. It´s been a pleasure for us to take Valencia Birding through another year and we very much look forward to the delights that 2017 will surely bring. We hope to see you again very soon, and wish you all a very happy, peaceful and bird-packed New Year!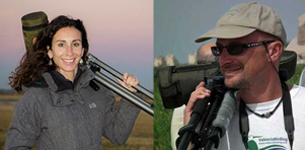 Best wishes,
Dave & Yanina.
Valencia Birding 2016 Year List
(only species seen within the Spanish Autonomous Region of the Valencian Community)
Mute Swan
Greylag Goose
Barnacle Goose
Shelduck
Mandarin Duck
Wigeon
Gadwall
Teal
White Headed Duck
Mallard
Pintail
Garganey
Shoveler
Red-crested Pochard
Pochard
Ring-necked Duck
Ferruginous Duck
Tufted Duck
Melanitta deglandi
Common Scoter
Red-legged Partridge
Little Grebe
Great Crested Grebe
Black-necked Grebe
Balearic Shearwater
Yelkouan Shearwater
Gannet
Cormorant
Shag
Bittern
Little Bittern
Night-heron
Grey Heron
Squacco Heron
Cattle Egret
Little Egret
Great White Egret
Purple Heron
Black Stork
White Stork
Glossy Ibis
Spoonbill
Greater Flamingo
Honey-buzzard
Black Kite
Red Kite
Marsh Harrier
Hen Harrier
Pallid Harrier
Montagu's Harrier
Goshawk
Sparrowhawk
Buzzard
Booted Eagle
Short Toed Eagle
Golden Eagle
Osprey
Lesser Kestrel
Kestrel
Merlin
Hobby
Eleonora's Falcon
Peregrine
Spotted Eagle
Water Rail
Purple Swamphen
Moorhen
Coot
Crane
Little Bustard
Great Bustard
Oystercatcher
Black-winged Stilt
Avocet
Stone-curlew
Collared Pratincole
Little Ringed Plover
Ringed Plover
Kentish Plover
Dotterel
Golden Plover
Grey Plover
Lapwing
Social Lapwing
Red Knot
Sanderling
Little Stint
Temminck's Stint
Lesser Yellowlegs
Baird's Sandpiper
Curlew Sandpiper
Dunlin
Ruff
Jack Snipe
Snipe
Long-billed Dowitcher
Black-tailed Godwit
Bar-tailed Godwit
Whimbrel
Curlew
Common Sandpiper
Green Sandpiper
Spotted Redshank
Greenshank
Woodcock
Wood Sandpiper
Redshank
Turnstone
Great Skua
Black headed Gull
Little Gull
Mediterranean Gull
Lesser Black backed Gull
Herring Gull
Yellow legged Gull
Caspian Gull
Audouin's Gull
Slender Billed Gull
Little Tern
Gull-billed Tern
Caspian Tern
Whiskered Tern
Black Tern
White-winged Black Tern
Sandwich Tern
Common Tern
Elegant Tern
Razorbill
Pin Tailed Sandgrouse
Black Bellied Sandgrouse
Woodpigeon
Collared Dove
Turtle Dove
Ring-necked Parakeet
Great Spotted Cuckoo
Cuckoo
Barn Owl
Eagle Owl
Scops Owl
Little Owl
Tawny Owl
Long-eared Owl
Short-eared Owl
Nightjar
Red-necked Nightjar
Swift
Pallid Swift
Alpine Swift
Kingfisher
Bee-eater
Roller
Hoopoe
Wryneck
Green Woodpecker
Great Spotted Woodpecker
Calandra Lark
Short-toed Lark
Crested Lark
Woodlark
Skylark
Sand Martin
Crag Martin
Swallow
House Martin
Red-rumped Swallow
Tawny Pipit
Tree Pipit
Meadow Pipit
Red-throated Pipit
Water Pipit
Yellow Wagtail
Citrine Wagtail
Grey Wagtail
White Wagtail
Waxwing
Dipper
Wren
Dunnock
Alpine Accentor
Rufous Bush Chat
Robin
Thrush Nightingale
Nightingale
Bluethroat
Black Redstart
Redstart
Whinchat
European Stonechat
Wheatear
Black Wheatear
Black-eared Wheatear
Blue Rock Thrush
Ring Ouzel
Blackbird
Song Thrush
Redwing
Mistle Thrush
Cetti's Warbler
Fan-Tailed Warbler
Savi's Warbler
Sedge Warbler
Moustached Warbler
Reed Warbler
Great Reed Warbler
Icterine Warbler
Melodious Warbler
Blackcap
Whitethroat
Spectacled Warbler
Dartford Warbler
Subalpine Warbler
Sardinian Warbler
Yellow-browed Warbler
Western Bonelli's Warbler
Chiffchaff
Iberian Chiffchaff
Willow Warbler
Goldcrest
Firecrest
Spotted Flycatcher
Pied Flycatcher
Bearded Tit
Long-tailed Tit
Blue Tit
Great Tit
Crested Tit
Coal Tit
Marsh Tit
Short-toed Treecreeper
Penduline Tit
Golden Oriole
Southern Grey Shrike
Woodchat Shrike
Jay
Magpie
Chough
Yellow-billed chough
Carrion Crow
Raven
Starling
Spotless Starling
House Sparrow
Tree Sparrow
Rock Sparrow
Spanish Sparrow
Chaffinch
Brambling
Serin
Greenfinch
Goldfinch
Siskin
Linnet
Common Crossbill
Bullfinch
Hawfinch
Yellowhammer
Cirl Bunting
Rock Bunting
Ortolan Bunting
Reed Bunting
Corn Bunting
Griffon Vulture
Total of 266 species