Last week, I enjoyed a fabulous day of birding at the Valencian Coastal Wetlands with returning clients from UK.  Although chilly and quite breezy, we enjoyed a truly wonderful day.
As we only had one day, we aimed to maximise habitat diversity, taking in coastal scrub, dunes, beach, sea, farmland, reed beds and fresh water lagoons.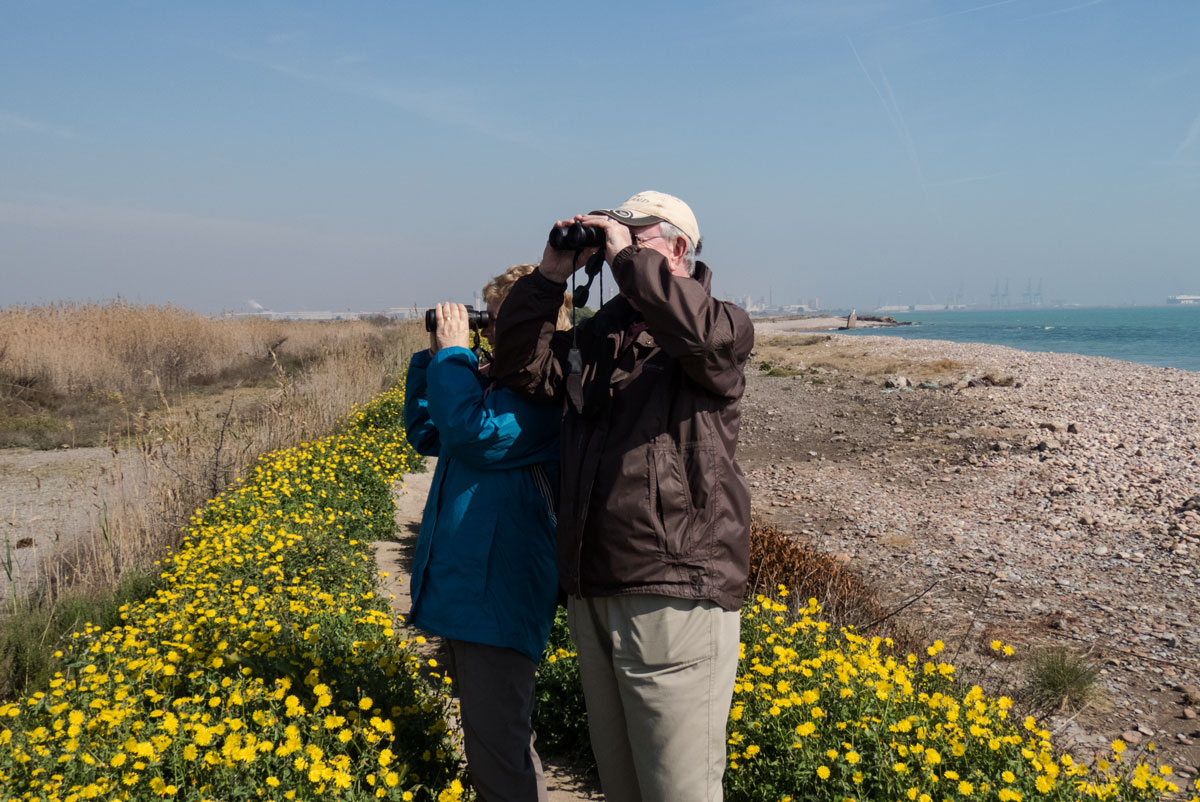 As both John and Jackie are owl lovers, the first planned stop was to see Little Owls and Barn Owls, although we were delayed by 8 Booted Eagles which were flying around very close to us.
After a short drive, we started a pleasent walk beside the sea, where we had good views of Audouin's Gull and as soon as we arrived at the first hide a Dartford Warbler stopped just in front of us. Little Grebes and many waterfowl species plus a freshwater turtle made it a very special stop.
We then walked to another hide from which we had good views of Kentish Plover, Common Sandpiper and two Hoopoes.
Next stop was the most exciting for Jackie as she wanted to see Purple Swamphen,  and we were fortunate to enjoy great views of this spectacular aquatic bird.  The trip was brought to a fitting end with views of two Iberian Grey Shrikes. It had been an amazing day spent with two special people.
The species list for the day included…
Little Owl, Barn Owl, Kestrel, Common Buzzard, Booted Eagle, Marsh Harrier, Audouin's Gull, Black-headed Gull, Yellow-legged Gull, Lesser Black-backed Gull, Sandwich Tern, Great Cormorant, Grey Heron, Little Egret, Cattle Egret, Great Egret, Coot, Purple Swamphen, Moorhen, Little Grebe, Gadwall, Common Teal, Mallard, Red-crested Pochard, Shoveler, Common Sandpiper, Kentish Plover, Monk Parakeet, Iberian Grey Shrike, Magpie, Hoopoe, Collared Dove, Wood Pigeon, Barn Swallow, House Martin, Crag Martin, Song Thrush, Spotless Starling, Starling, Chaffinch, Goldfinch, Robin, Black Redstart, Serin, Great Tit, House Sparrow, Stonechat, Grey Wagtail, White Wagtail, Chiffchaff, Reed Bunting, Meadow Pipit, Dartford Warbler, Sardinean Warbler, Zitting Cisticola.
Written by Yanina Maggiotto
Bird Watching Guide at Valencia Birding