Last week I had the pleasure to provide a bird watching trip for two experienced birders from the UK. They were visiting Valencia City and they wanted a day off to explore the birdlife of this area. It was their first birding trip in our region so I decided to take them to a coastal wetland which provides a large variety of species and a significant breeding colony.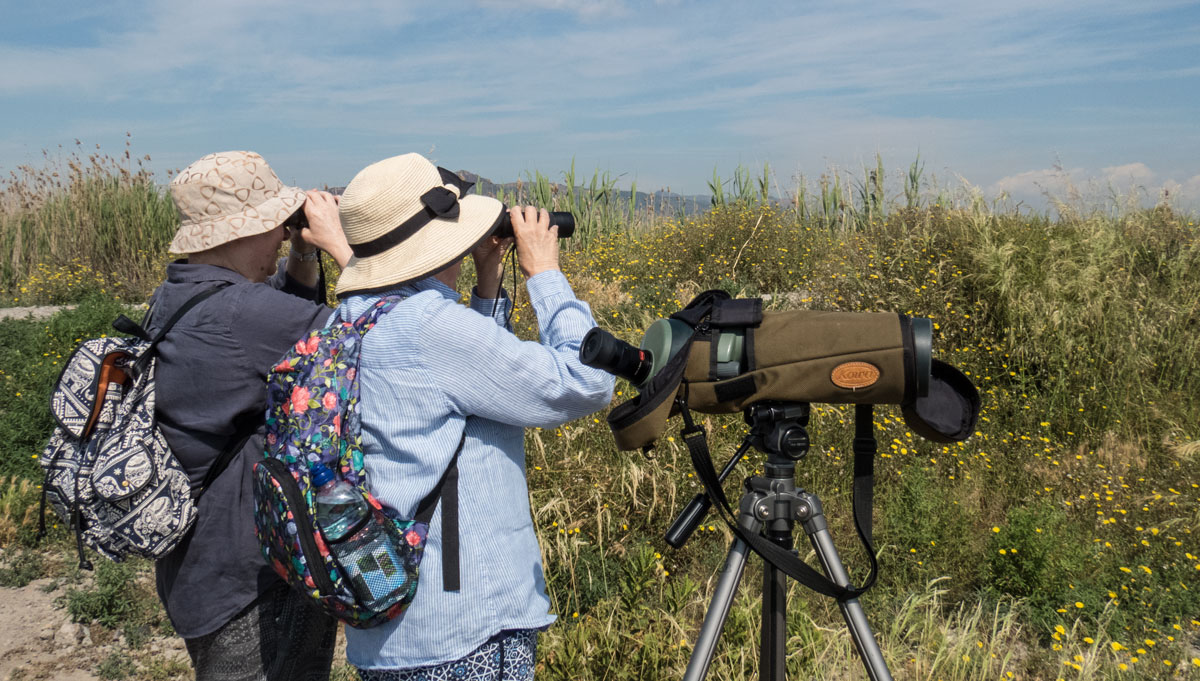 This trip involves some walking beside the sea and salt marshes lagoons. In the first stop we enjoyed nice views of  White-headed Duck, Red-crested Pochard, Great Reed Warbler and Little Bittern.  Whiskered Terns were flying overhead.
We kept walking by the beach up to the next hide, which at this time of the year is the hotspot of the reserve because it´s home to breeding colony of species such as Collared Pratincole, Sandwich Tern, Little Tern, Common Tern, Black-winged Stilt and others.  You could spend a full day just in this spot!  It was also interesting having a male White-headed Duck feeding very close to us.
After a picnic lunch, we headed inland, hoping to see Purple Heron, Purple Swamphen and Hoopoe.  We were very lucky to have nice views of all those birds and also to enjoy a lovely display of male Marsh Harrier overhead.
We ended the day driving through an area of farmland where we spotted Woodchat Shrike and Iberian Grey Shrike and also enjoyed nice views of Serin.  However we were most delighted with what may have been the species of the day – a Nightingale singing in full view!
It had been a fantastic day with great views of interesting species and in such a good company!
The species list for the day included…
Marsh Harrier, Kestrel, White-headed Duck, Gadwall, Shoveler, Mallard, Red-crested Pochard, Common Pochard, Little Grebe, Glossy Ibis, Flamingo, Grey Heron, Purple Heron, Cattle Egret, Little Egret, Night Heron, Glossy Ibis, Water Rail, Purple Swamphen, Moorhen, Coot, Black-winged Stilt, Avocet, Kentish Plover, Ringed Plover, Little-ringed Plover, Bar-tailed Godwit, Turnstone, Common Sandpiper, Redshank, Collared Pratincole, Slender-billed Gull, Black-headed Gull, Mediterranean Gull, Audouin's Gull, Yellow-legged Gull, Little Tern, Whiskered Tern, Common Tern, Sandwich Tern, Wood Pigeon, Collared Dove, Hoopoe, Monk Parakeet, Woodchat Shrike, Magpie, Sand Martin, House Martin, Barn Swallow, Great Tit, Serin, Reed Warbler, Great Reed Warbler, Zitting Cisticola, Cetti's Warbler, Nightingale, Spotless Starling, White Wagtail, Greenfinch, Goldfinch, House Sparrow.
Written by Yanina Maggiotto.
Bird Watching Guide at Valencia Birding.