We were recently especially gratified to be able to design and provide a tailor-made birding break for returning clients from UK.  They first came on multi-day birding trip with us a few years ago, and had indeed tried to organise a return visit a couple of years later.  However, shortly before the trip, one of the group was suddenly taken very seriously ill.  After a really tough time with very dangerously complex health issues, we were delighted to receive news that an amazing recovery had been made and that they wanted to arrange a birding trip with us!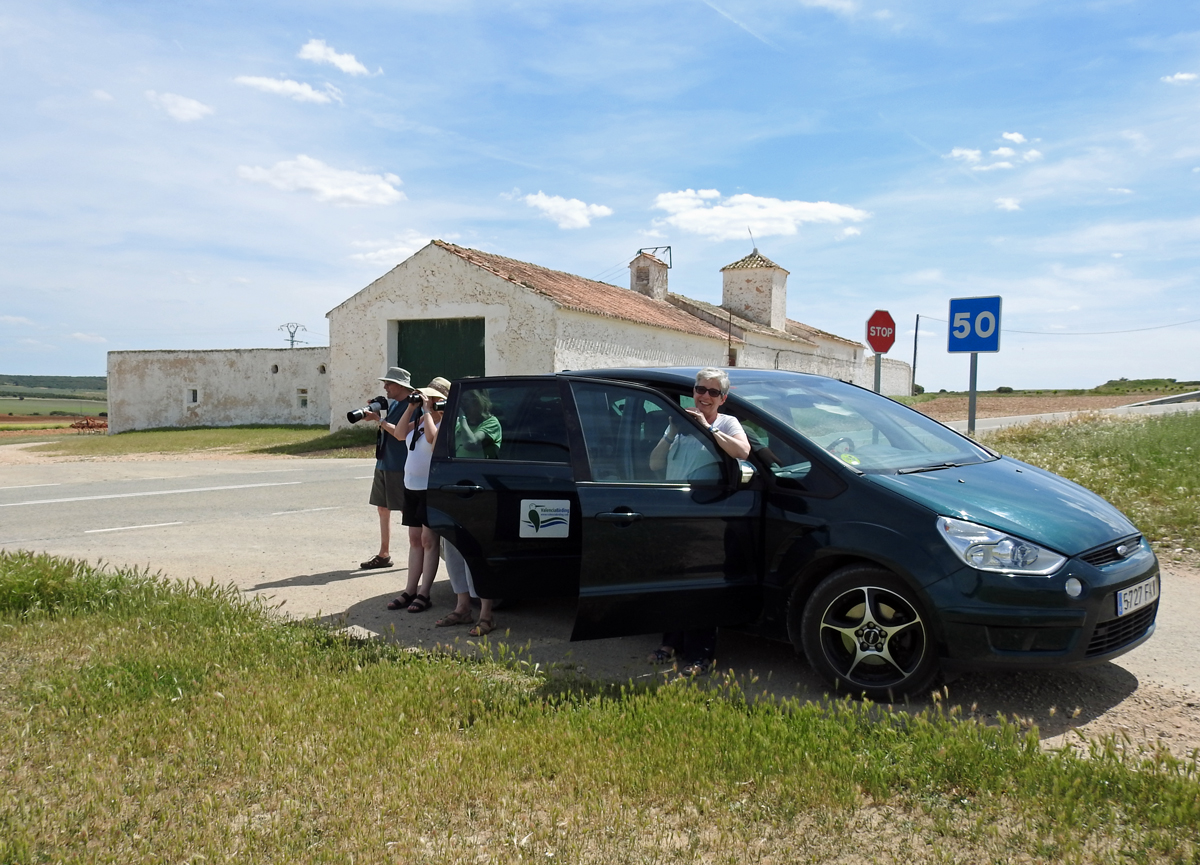 This was going to be a unique trip as they wanted a 7-day holiday that would include 3 days of guided birding and some free days to enjoy the local culture and to relax.
We came up with a plan and designed what was hopefully exactly what they were looking for!
They arrived at Valencia airport on a fairly early flight which gave us ample time to make the journey to Banyeres de Mariola, stopping on the way for lunch in a local farming village.  They were to spend the first half of the week at the guest house Alqueria del Pilar, a traditional Valencian farmhouse that´s been beautifully converted into self-contained holidays apartments.  They spent the weekend exploring Banyeres de Mariola – the village, the castle, some local restaurants and the lovely riverside walks.
On the Monday morning we all left Banyeres de Mariola and headed for the steppe region that lies within very easy reach.  After a comfortable drive, we began our birding by a small lagoon on the edge of cereal fields.  Here we had great views of a pair of Marsh Harrier, Avocet, Black Winged Stilt and Great Reed Warbler.
Our next stop was at an elevated position looking over the expanse of farmland.  We had good views of Crested Lark, Buzzard and of numerous passing Gull-billed Terns.  A short trip down the lane took us to a collection of farm buildings where we stopped and enjoyed seeing Rock Sparrow, Rock Dove, Corn Bunting and a small group of Shelduck that were resting on some nearby flooded fields.
After a coffee break we spent some time beside what is currently a fabulous lagoon (in summer it dries up completely but thanks to heavy rainfall and snowfall last winter, the water levels are very high and there are plenty of birds). Here we had fabulous views of White Headed Duck, Black Necked Grebe, Wood Sandpiper, Kentish Plover and Greater Flamingo.
A Short Toed Eagle passed high overhead as we were having lunch.  The rest of the day was spent on the high steppe and despite some quite severe heat haze we were able to get good views of Short Toed Lark, Crested Lark, Skylark, Little Owl and Red Legged Partridge.  The day ended with great views of Yellow Wagtail.
We then headed towards Valencia where they group would spend the next few days in the farming village of Alfara in the house of a friend.  The house had been lovingly and carefully restored and sits in the heart of the village.  Alfara is unknown in terms of tourism but offered a unique base for a few days of authentic Spanish village life, as well as being close to some great birding sites.
After a free day during which they explored the village, walked by the river, visited the chapel and enjoyed some local cuisine, we headed out for our next birding trip.  Today was to be spent at Albufera de Valencia, specifically at a couple of restricted reserve areas.  The first stop gave us views of Slender Billed Gull, Audouin´s Gull, Sandwich Tern, Whiskered Tern and Little Tern.
After a coffee break in a local village we moved on to another reserve area where we saw some great species including Purple Swamphen, Marbled Teal, Glossy Ibis, Purple Heron, Zitting Cisticola and Cetti´s Warbler.
The afternoon was spent enjoying views of the park´s extensive population of herons and egrets, including Grey Heron, Purple Heron, Squacco Heron, Night Heron, Little Egret and Cattle Egret.
The penultimate day of the week was spent at another wetland site close to Valencia.  Some of the group wanted to get some photos of some of the region´s most emblemic species, so we chose a couple of spots where they could do so without causing any disturbance whatsoever to the birds.
We made a fairly early start and stopped for a brief morning coffee and to collect sandwiches before heading out across a coastal dune and lagoon system.  The day began with views of a Turtle Dove, then with a good selection of songbirds – Cetti´s Warbler, Reed Warbler, Great Reed Warbler, Sardinian Warbler, White Wagtail and Serin.
The first lagoon gave excellent views of Red Crested Pochard and Little Grebe.  A few Audouin´s Gulls passed overhead and we also enjoyed watching Little Terns fishing.  We enjoyed watching a Common Sandpiper feeding by the shore of the lagoon.
Our walk took us close to some coastal scrub where we had very good views of Collared Pratincole, Whimbrel and a Woodchat Shrike.
However, we were to spend most of the day at a site that has an extensive breeding colony.  This included Common Tern, Sandwich Tern, Little Tern, Collared Pratincole, Black Winged Stilt and Avocet.  We also had great views of Mediterranean Gull, Kentish Plover, Curlew Sandpiper and a White Headed Duck.
Very happy with the species and the quality of the views, we headed for a smaller lagoon where we ended the day with views of Purple Swamphen and Little Bittern.
The next morning, the group headed back to Valencia airport from where they departed.  We were sad to see them leave, especially after some days together.  However, it had been a lovely week and hopefully one that they´ll remember for a long time to come.
The species list for the their trip included…
Audouin´s Gull, Black Headed Gull, Mediterranean Gull, Slender Billed Gull, Yellow Legged Gull, Common Tern, Gull Billed Tern, Little Tern, Sandwich Tern, Whiskered Tern, Cormorant, Cattle Egret, Little Egret, Grey Heron, Night Heron, Purple Heron, Squacco Heron, Little Bittern, Glossy Ibis, Greater Flamingo, Avocet, Black Winged Stilt, Collared Pratincole, Common Redshank, Common Sandpiper, Curlew Sandpiper, Little Ringed Plover, Ringed Plover, Kentish Plover, Lapwing, Whimbrel, Red Legged Partridge, Black Necked Grebe, Great Crested Grebe, Little Grebe, Purple Swamphen, Coot, Moorhen, Gadwall, Mallard, Marbled Teal, Pochard, Red Crested Pochard, Shelduck, Shoveler, White Headed Duck, Buzzard, Kestrel, Little Owl, Marsh Harrier, Short Toed Eagle, Barn Swallow, House Martin, Swift, Blackcap, Cetti´s Warbler, Great Reed Warbler, Reed Warbler, Sardinian Warbler, Zitting Cisticola, Crested Lark, Short Toed Lark, Skylark, Collared Dove, Rock Dove, Turtle Dove, Wood Pigeon, Iberian Grey Shrike, Woodchat Shrike, Cuckoo (h), Robin, Great Tit, Nightingale (h), Blackbird, Song Thrush, Mistle Thrush, Spotless Starling, Spotted Flycatcher, Grey Wagtail, White Wagtail, Yellow Wagtail, Corn Bunting, Goldfinch, Greenfinch, Rock Sparrow, House Sparrow, Tree Sparrow, Serin, Crow, Magpie, Hoopoe.
Written by Dave Warrington and Yanina Maggiotto.
Birding Guides at Valencia Birding.