bird photography, bird photography courses, Bird watching Albufera de Valencia, Bird watching holidays Spain, bird watching in Alicante, Bird Watching in Spain, Bird Watching in Valencia, bird watching trips Valencia, Birding in Valencia, Birding News, birdwatching in valencia, Guided Bird Watching Valencia
Last weekend I was delighted to provide a 2-day bird photography trip for a client from Argentina.  Despite his humble and friendly nature, he was one of his countries leading bird photographers and has supplied material to numerous books, publications and apps.  This was his first photography trip to Spain, so he wanted to capture some quality shots of birds from different habitats.  Most species were new for him as they obviously differ from those of South America, so even common species were of interest.
Day 1 – Albufera de Valencia.
We arrived at Albufera de Valencia as the sun was beginning to rise, as to get the most from the morning light.  We began by a small lagoon, photographing waders including Dunlin, Sanderling, Little Stint, Ringed Plover, Little Ringed Plover and Kentish Plover.
We also photographed Greater Flamingo and Black Winged Stilt.
Pleased with the shots that we´d captured of the waders, we turned our attention to the Black Necked Grebes and White Headed Ducks that were also present on the lagoon.  With some patience we managed to get good views and some nice photos of both species.
We then moved to another lagoon where we had great views of Ruff, Common Sandpiper, Black Tailed Godwit, Shelduck, Teal, Common Tern and Sandwich Tern.
The surrounding trees and bushes also gave views of Short-toed Treecreeper, Chiffchaff, Sardinian Warbler and Redstart.
We then turned our attention to the rice fields on the southern side of the park.  This is harvest time, so masses of Cattle Egrets following the harvesters and tractors is a a common sight.  We also had great views of Booted Eagle, both male and female Marsh Harrier and Wheatear.  Another interesting sight was a Grey Heron that swooped into a nearby canal and took a juvenile Moorhen, killed it and flew off with it in its bill!
We´d had an early start and a very busy morning, so we took a break in the rice farming village of El Palmar where Esteban very kindly invited me to lunch.  We enjoyed traditional Valencian Paella and All i Pebre, a local dish made from eel, potato, garlic and tomato.  The day ended with a drive through the northern rice fields where we had views of Yellow Wagtail.
Day 2 – Passerine Photo Hide
We departed Valencia very early and travelled into the forested highlands of the interior where we´d arranged a morning in a photo-hide.  We arrived just before daybreak and established ourselves in the hide.
We work closely with owners of private, professionally run photo hides and provide trips to photograph raptors and passerines.  Today´s session was in a passerine hide, with the objective of getting quality photos of a range of local species.
The first birds to show were Robin, Chaffinch, Serin, Goldfinch and Great Tit.  A Sparrowhawk swooped into a nearby tree, causing them all to flee.  Once she´d departed, the birds returned.
Blue Tits also joined as did a Tree Pipit.  Although all very common European species, Esteban was very happy to get shots of them all.
Around midday we made the decision to leave the hide and to drive down to one of the local villages where we enjoyed a coffee break.  On the way we made a brief stop to see Spotted Flycatcher, Common Buzzard and Raven.
We had half a day remaining, so we chatted about the birds species that I´d like to show Esteban, particularly some that were of special local importance.  We decided on two key species – Audouin´s Gull and Purple Swamphen.  With this in mind we headed back towards Valencia where we visited a coastal site.
The Audouin´s Gulls were very obliging, and we were fortunate enough to get some great views.
We also had views and photo-opportunities of Stonechat, Zitting Cisticola, Reed Warbler, Kingfisher and Cetti´s Warbler.  Eventually the Purple Swamphen came out into the open, giving great views.  One of the most incredible sights of the afternoon was the constant stream of passing Swallows, House Martins and Sand Martins.  During the three hour that we were there, this continued non-stop – migration live before our eyes!
Both quite tired from the pre-dawn start, we opted to bring the day to a close with a brief walk around some local farmland.  Although the Hoopoe didn´t show, we were treated to fabulous views of a Booted Eagle, flying very low overhead.  This brought the trip nicely to its end.  Esteban had over 1,000 photos from the 2 days so for sure had plenty of processing work to do!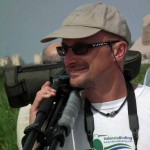 Written by Dave Warrington.
Bird Watching Guide at Valencia Birding.