Last week, I enjoyed a super day of autumn birding on the steppe with two returning clients from England.  Both very keen birders, they were keen to see the fabulous species that this unique habitat holds.  Within just over an hour´s drive from Valencia, the high steppe and lagoons provide a completely different habitat from those found at the coast or the mountains.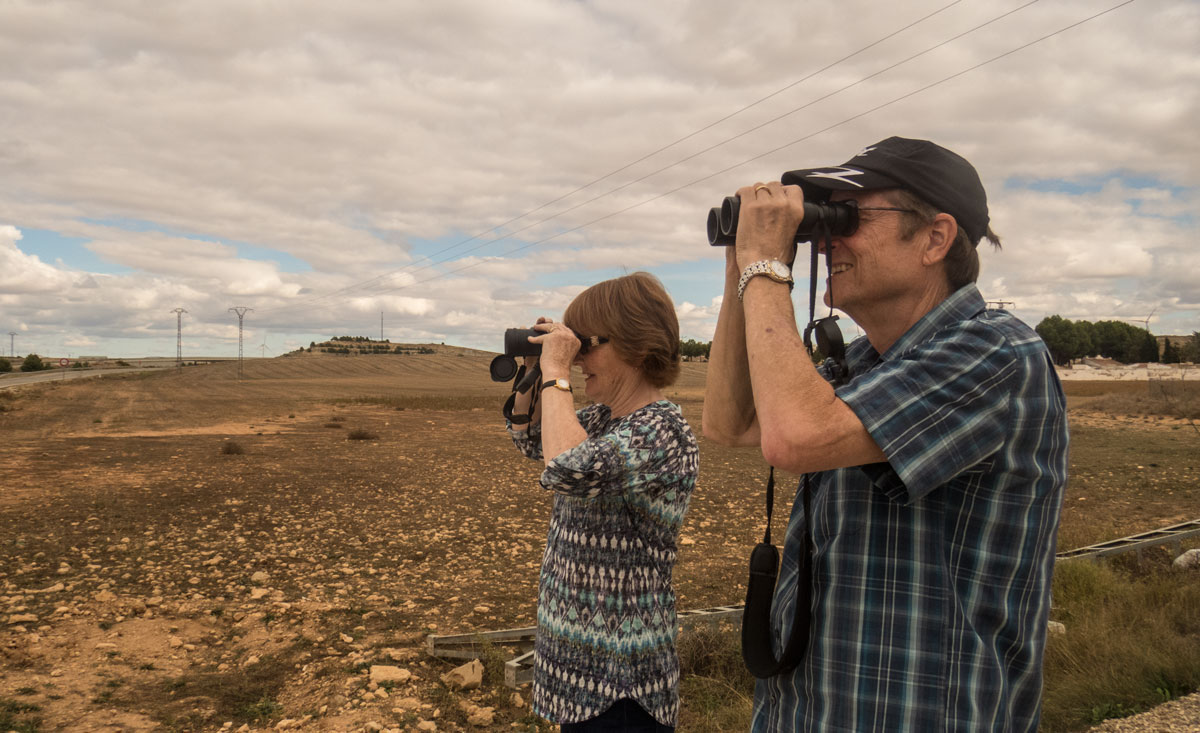 Our first stop beside an area of floodwater gave views of Black-necked Grebe, Little Grebe, Black-winged Stilt, and a huge flock of Spotless Starling.  The day had started well and the weather was on our side too – sunny and thankfully not windy!  The next stop was by some old farm buildings where we enjoyed views of Rock Sparrow, Corn Bunting and one of the highlight species Great Bustard!
The next lagoon, provided us with views of Booted Eagle, Red Kite and White-headed Duck.
Lunch time was approaching, so we parked in a sheltered spot by a favourite lake and whilst we enjoyed a picnic, we saw White-headed Duck, Gadwall, Black Necked Grebe, Marsh Harrier and Flamingo.
The rest of the day was to be spent exploring the high steppe, visiting some favourite spots and hoping for a little good luck too!  Today indeed brought us some good luck, and we had amazing views of Calandra Lark and Iberian Grey Shrike.
A little patience was rewarded with views of Little Bustard.  We were also delighted to see four Iberian Green Woodpeckers and Hoopoe very close to the car.  Then, in one of the usual spots we had good views of Little Owl.
The day ended with yet more views of Great Bustards….the trip had been a success with a good number of lifers.
The species list included… Booted Eagle, Red Kite, Common Buzzard, Kestrel, Marsh Harrier, Little Owl, Shelduck, Shoveler, Mallard, Red Crested Pochard, Gadwall, Shelduck, White Headed Duck, Pochard, Black-necked Grebe, Little Grebe, Great-crested Grebe, Coot, Moorhen, Cormorant, Yellow Legged Gull, Black-headed Gull, Avocet, Black-winged Stilt, Lapwing, Little Bustard, Great Bustard, Flamingo, Kentish Plover, Ringed Plover, Redshank, Red legged Partridge, Snipe, Cattle Egret, Stone Curlew, Green Woodpecker, Calandra Lark, Crested Lark, Skylark, Water Pipit, Hoopoe, House Martin, Swallow, Collared Dove, Stonechat, Wheatear, Carrion Crow, Magpie, House Sparrow, Rock Sparrow, Corn Bunting, Goldfinch, Linnet, Spotless Starling, Cetti's Warbler, Reed Warbler.
Written by Yanina Maggiotto
Bird watching Guide at Valencia Birding.