A few days ago, I had the pleasure to organise a guided bird watching trip to the Valencian Coastal wetlands for clients from London. They were visiting the city of Valencia and wanted a day out to discover the area´s bird life.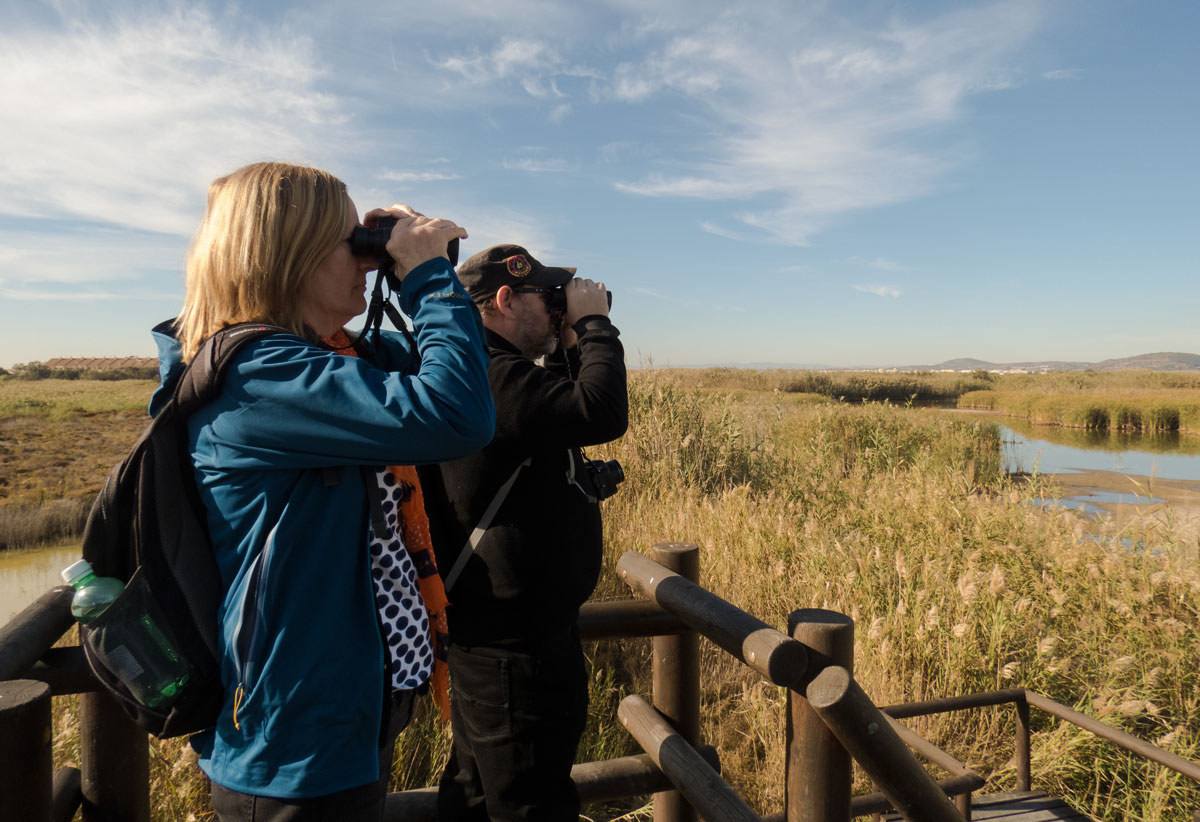 It was a sunny autumn day – fantastic for birding.  I designed a trip that involved some walking through different ecosystems to maximise the quantity of species.
As soon we started walking we stopped to enjoy great views of one of the target species of the day, White-headed Duck.  Right beside 6 examples of this very special duck there was a Water Rail enjoying a morning bath!
We kept walking beside the sea and stopped again for good views of Audouin's Gull and a flock of Red-Crested Pochard in flight.
In the next lagoon, we were delighted by Little Grebes and Purple Swamphens.. one of the highlights of the day.
After a picnic lunch by the sea, we headed inland enjoying a lovely walk searching for raptors.  We succeded…we had great views of 6 different Booted Eagles, as well as Common Buzzards and Marsh Harries that were enjoying the thermals.
It had been an exciting day with good views of some fantastic species, all spent in great company.
The species list of the day included…
Common Buzzard, Booted Eagle, Marsh Harrier, Kestrel, White-headed Duck, Red-crested Pochard, Common Pochard, Shoveler, Mallard, Pintail, Teal, Great Cormorant, Grey Heron, Little Egret, Cattle Egret, Glossy Ibis, Purple Swamphen, Water Rail, Moorhen, Coot, Little Grebe, Audouin's Gull, Yellow-legged Gull, Lesser Black-backed Gull, Snipe, Common Sandpiper, Green Sandpiper, Wood Pigeon, Collared Dove, Kingfisher, Magpie, Crested Lark, Crag Martin, House Martin, Cetti's Warbler, Chiffchaff, Zitting Cisticola, Sardinian Warbler, Dartford Warbler, Robin, Bluethroat, Black Redstart, Stonechat, Starling, Spotless Starling, White Wagtail, Meadow Pipit, Chaffinch, Greenfinch, Goldfinch, Serin, House Sparrow.
Written by Yanina Maggiotto
Bird Watching Guide at Valencia Birding.