We were recently delighted to provide a winter birding trip to the Albufera Natural Park for a returning client from England. He´s an experienced birder who´s been to Valencia several times and has been on many birding trips with us.  However, this was his first time in winter, so he was keen to enjoy the different landscape and species that this season provides.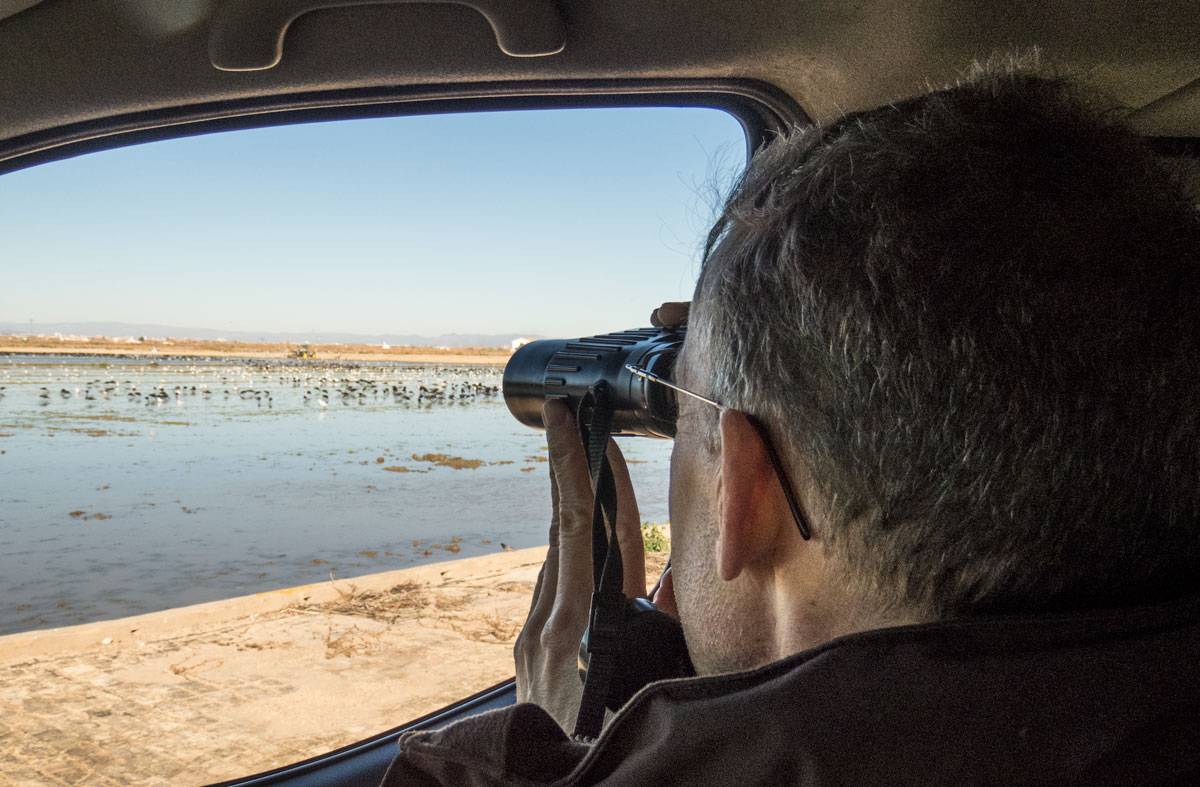 Our first stop was at a reserve area where we enjoyed spectacular and close views of a number of Booted Eagles plus hundreds of waders including Black-tailed Godwit, Black-winged Stilt and Avocet.  At the next hide, we accomplished one of his wishes of the day, enjoying fantastic views of a male Bluethoat!  We then spent a while at a tower observatory, paying particular attention to wildfowl, and enjoying views of Pintail, Red-crested Pochard and Shoveler.  We also saw at least ten Marsh Harriers flying low over the reed beds.
Next stop was a green filter reserve area, but before entering, we stopped by some rice paddies to enjoy views of a large flock of Glossy Ibis – another target species of the day.  We also had an unexpected sighting of an adult Whiskered Tern, very early in the year for this area.
Once inside the reserve we enjoyed nice views of Purple Swamphen and Great White Egrets. After a picnic lunch, we drove to a small lake close to the sea, our goal being to spot Audouin's Gull and Black-necked Grebe, both of which we saw.
On the walk back through the forest to the car, we enjoyed great views of Firecrest and a Wren, a species which he hadn't seen before in Spain.
We finished the day at a Night Heron colony, a special spot here in Albufera.
It was as always a pleasure to see Gavin back in Valencia and to spend some great birding time together.
The list for the day included 75 species…
Booted Eagle, Common Buzzard, Marsh Harrier, Kestrel, Shelduck, Gadwall, Pintail, Red-crested Pochard, Mallard, Common Pochard, Purple Swamphen, Moorhen, Coot, Great Cormorant, Grey Heron, Great White Egret, Cattle Egret, Night Heron, Little Egret, Glossy Ibis, Flamingo, Great-crested Grebe, Black-necked Grebe, Whiskered Tern, Audouin's Gull,Lesser Black-backed Gull, Yellow-legged Gull, Black-headed Gull, Black-winged Stilt, Avocet, Greenshank, Common Redshank, Snipe, Wood Sandpiper, Green Sandpiper, Common Sandpiper, Woodpigeon, Collared Dove, Hoopoe, Kingfisher, Southern Grey Shrike, Magpie, Crested Lark, Crag Martin, Great Tit, Long-tailed Tit, Penduline Tit, Wren, Firecrest, Cetti's Warbler, Chiffchaff, Zitting Cisticola, Sardinian Warbler, Robin, Bluethroat, Black Redstart, Stonechat, Starling, Spotless Starling, Grey Wagtail, White Wagtail, Meadow Pipit, Water Pipit, Reed Bunting, Chaffinch, Brambling, Greenfinch, Goldfinch and House Sparrow.
Written by David Warrington & Yanina Maggiotto
Bird watching guides at Valencia Birding