We recently put together a 3-day winter birding break at relatively short notice for a lovely couple from the Netherlands who wanted to escape the cold grey skies of northern Europe and enjoy some winter sunshine here in Valencia.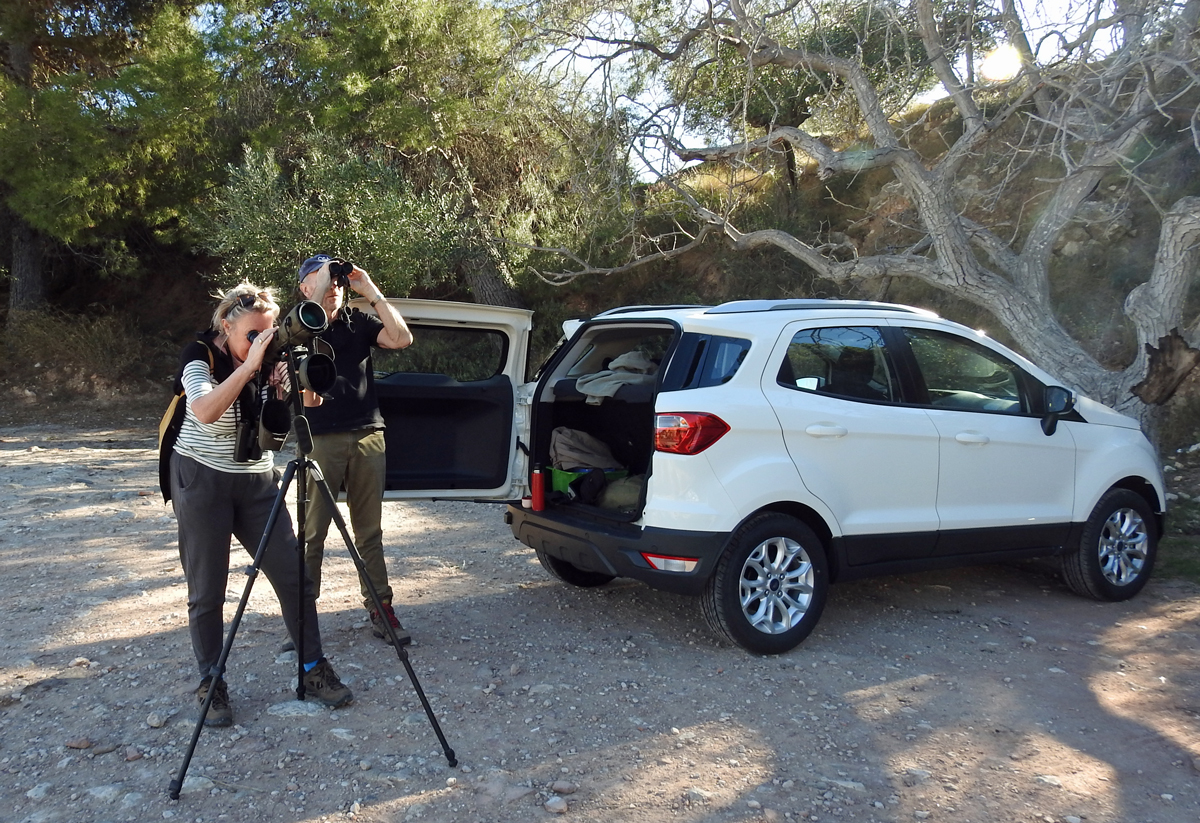 They chose to stay at the Adhoc Monumental Hotel in the historical quarter of Valencia, and to go birding with us to the mountains, steppe and the wetland site of Albufera de Valencia.  I collected them from Valencia airport in the evening and took them to their hotel, discussing the details of the birding trips on the way.  Both Gill and Albert were experienced birders and clearly very enthusiastic, so we were looking forward very much to providing the trips for them.
On day 1, I met them at their hotel and we made the journey of just over an hour to one of the inland sierras of the region.  Today wasn´t about maximising species, it was about just a few specialist mountain birds- including the Alpine Accentor.  This characterful little bird breeds in the Pyrenees and Alps but flies to the Valencia region in winter where it tends to stay on some of our highest peaks.  We look forward to their return, and the walk involved in seeing them is always worthwhile.
After a morning coffee stop, we got our things together and began the walk.  As we walked up through the pine forests, we stopped to look for Crested Tit – a locally common bird that´s always a delight to see.  With a little patience we were rewarded with great views.
We also enjoyed watching Short Toed Treecreeper and a small group of Long Tailed Tit.
The views on the way up the mountain were fabulous with clear blue skies.  We were soon to see our first Griffon Vultures of the day, followed by a Raven.  As we arrived on top of the peak, there was no sign of Alpine Accentors.  despite reports during the previous days.  However, with a little determined searching, we located a small flock of these beautiful little birds, all of them showing extremely well.  We sat and enjoyed them for a while, taking in the complex and delicate markings of their plumage.
We had lunch on the mountain, watching Coal Tits feeding in a nearby tree before heading back down.  On the way we stopped to enjoy great views of another of the area´s classic species, the Firecrest.
Once back at valley level we had a brief coffee stop before visiting a huge limestone gorge where we used the scope to locate Griffon Vultures that were sitting in the caves high up the walls.
We were hoping for two more target species – Blue Rock Thrush and Black Wheatear.  Our walk into the gorge gave views of Sardinian Warbler, Blackcap, Serin and Siskin.  Then, after careful scanning of the crags we had or first view of a Blue Rock Thrush, looking fabulous in the afternoon sun.
Time was marching on so we decided to retreat, walking back down the gorge.  We stopped for a final search at a spot that often proves reliable for Black Wheatear.  To our delight, a flash of white from some low scrub revealed our target, and we were fortunate enough the enjoy views of two birds.  A great way to end the day.
Happy with our first day, we made the comfortable journey back to Valencia.
The second day trip was provided by Yanina.  She took Gill and Albert to the huge wetland site of Albufera de Valencia.  They began the day at a reserve area where they had superb views of Booted Eagle.  A walk through the woods gave sightings of Red Legged Partridge and once at the first hide, scanning over a lagoon they enjoyed seeing a sizeable flock of Black Tailed Godwits.
They then turned their attention to wildfowl, and from a viewing area they were able to see Pintail, Gadwall, Red Crested Pochard, Common Pochard, Teal and Shoveler.
The second spot was inside a different, restricted reserve area,  Here, they enjoyed views of Avocet, Snipe, Marsh Harriers and one of the day´s key target species, the Purple Swamphen.  After lunch they drove between the rice paddies, most of which were still flooded.  Here they had great views of huge flocks of Glossy Ibis and a few Water Pipits feeding in amongst the stubble.  Other highlights included winter visitors such as Bluethroat and Brambling, plus a Black Stork on passage.
They ended the day watching over a small coastal lagoon where they succeeded in getting quality views of some other key species such as Audouin´s Gull and Black Necked Grebe.  They also had the "full set" of Redshank, Spotted Redshank and Greenshank!
Very happy with the day and the species seen, they made the short return journey to Valencia.
The third day of the trip included another, completely different habitat – the high steppe area of Castilla de la Mancha.  Just over an hour away from Valencia, this region provides unique habitat and some very special bird life.
The first stop by a small lagoon gave sightings of Rock Sparrow and Corn Bunting – both classic species for this area.  They moved uphill a little, to a popular spot that we often use as a vantage point.  Scoping across the vast fields gave very rewarding views of not just Great Bustard but also Black Bellied Sandgrouse.  To add to the delight, a nearby pile of stones held a Little Owl.
The local farm buildings and surrounding fields and scrub can be excellent sites for birds, and over the years we´ve come to favour a few specific spots.  Today, one of these gave super views of Crested Lark, Marsh Harrier, Spotless Starling, and a Snipe.  They also made a brief stop by an area of floodwater where they enjoyed seeing Greater Flamingo, Southern Grey Shrike and Gadwall.
The steppe trip demands some effort but also rewards such with some fabulous birds, often including a few surprises too.  It´s an ever changing environment with constant bird movement so always well worth the time spent.
It had been a pleasure for both Yanina and I to provide this break, to enjoy some great bird sightings and to spend time with such lovely people.
The species lists included :
Day 1 : Mountains.
Crested Tit, Coal Tit, Serin, Siskin, Chaffinch, Firecrest, Alpine Accentor, Blackcap, Chiffchaff, Sardinian Warbler, Black Redstart, Blue Rock Thrush, Black Wheatear, Short Toed Treecreeper, Griffon Vulture.
Day 2 : Albufera de Valencia.
Booted Eagle, Common Buzzard, Marsh Harrier, Kestrel, Shelduck, Mallard, Shoveler, Teal, Gadwall, Pintail, Black Stork, Flamingo, Glossy Ibis, Grey Heron, Great White Egret, Little Egret, Cattle Egret, Night Heron, Great-crested Grebe, Black-necked Grebe, Little Grebe, Great Cormmorant, Lesser Black-backed Gull, Black-headed Gull, Sandwich Tern, Purple Swamphen, Moorhen, Coot, Lapwing, Black-tailed Godwit, Black-winged Stilt, Avocet, Little Stint, Dunlin, Greenshank, Redshank, Spotted Redshank, Snipe, Little Ringed Plover, Kentish Plover, Red-legged Partridge, Magpie, Collared Dove, Woodpigeon, Hoopoe, Kingfisher, Starling, Blackbird, Great Tit, Chaffinch, Goldfinch, Brambling, Stonechat, Bluethroat, Black Redstart, Robin, Serin, Blackcap, Sardinian Warbler, Grey Wagtail, White Wagtail, Cetti's Warbler, Chiffchaff, Meadow Pipit, Water Pipit, Reed Bunting, House Sparrow.
Day 3 : Steppe.
Mallard, Shoveler, Wigeon, Gadwall, Teal, Common Pochard, Red-crested Pochard, Coot, Moorhen, Little Grebe, Black-necked Grebe, Great Crested Grebe, Greater Flamingo, Snipe, Black-winged Stilt, Lapwing, Red Legged Partridge, Great Bustard, Black-bellied Sandgrouse, Lesser Black-backed Gull, Yellow Legged Gull, Black-headed Gull, Rock Dove, Collared Dove, Wood Pigeon, Magpie, Carrion Crow, Hoopoe, Spotless Starling, Starling, Black Redstart, Water Pipit, Meadow Pipit, White Wagtail, Grey Wagtail, Stonechat, Crested Lark, Lesser Short Toed Lark, Skylark, Linnet, House Sparrow, Rock Sparrow, Corn Bunting, Goldfinch, Little Owl, Kestrel, Red Kite, Marsh Harrier, Buzzard.
Written by David Warrington & Yanina Maggiotto.
Bird Watching Guides at Valencia Birding.